Since its inception, Forefront has established itself as the leading aggregator in the social token landscape. From insight-packed essays to social token tooling to one of the best newsletters in the crypto space, the Forefront community is on a mission to truly become the Home of Social Tokens.
With momentum picking up rapidly, our community has come to recognize a few key blocks that need to be collectively molded for Forefront to really take things to the next level.
In this post, we'll dive into Forefront's journey so far and introduce Season One: Enter the Forge, which officially began July 25th.
We're also auctioning off a 1/1 sponsorship NFT to give an individual or DAO the chance to sponsor our work and get their product or service in front of our readers throughout Season One. Auction details on the bottom of the page.
Pre-season Highlights
Three months ago, we launched the $FF token, the first step to transition Forefront toward community ownership. We pioneered a robust token distribution model by onboarding over 1289+ active members of communities listed on Forefront. In addition to listing the $FF token on all major token platforms, our Discord is home to a thriving community of 1750 members!
Collabs
In the spirit of cross-DAO collabs and treasury diversification, we partnered with fashion house Metafactory to release a limited edition "Forefront Genesis Drop" long sleeve sweatshirt and deployed a beta version of Forefront Auction House featuring MintFund's uprising artist Ikaro Cavalcante.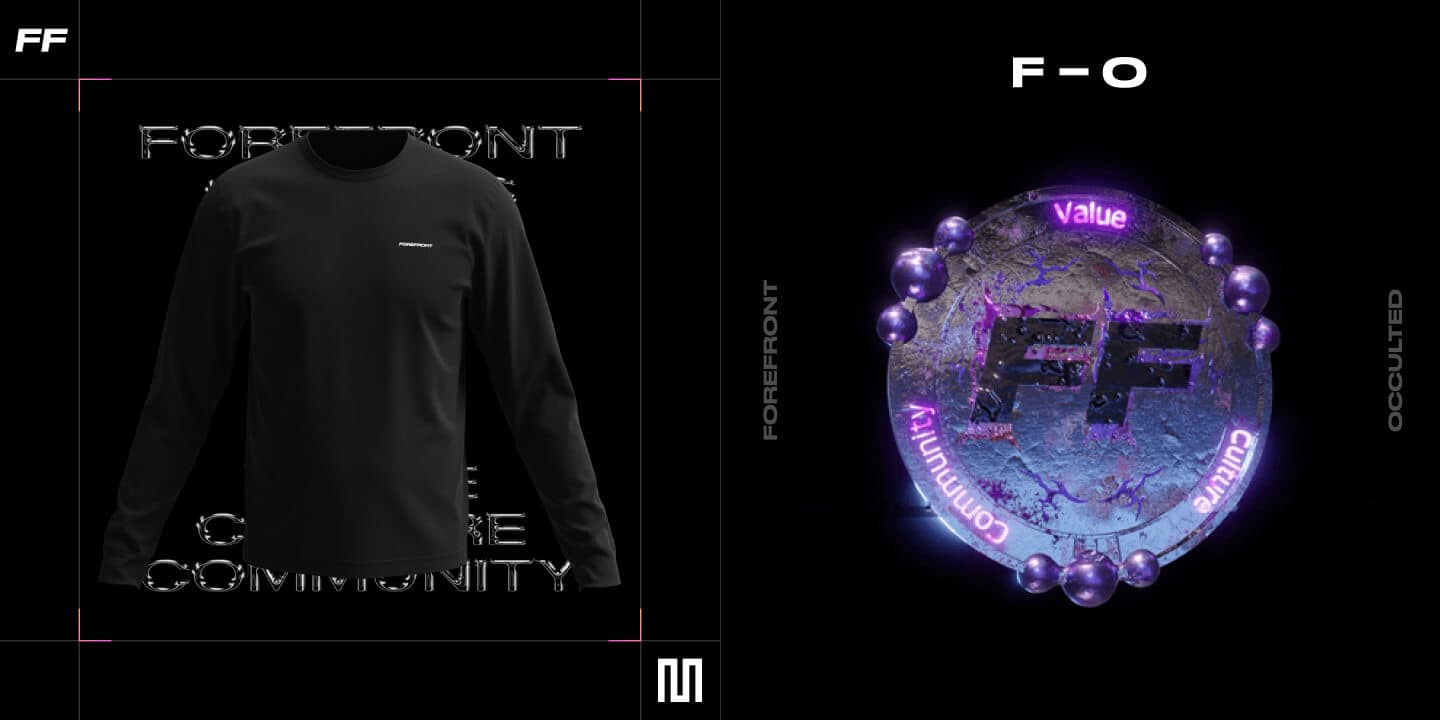 To date, these two drops have generated over ~$43,000 in revenue for the DAO.
Content
Our website hosts over two dozen original essays while the Forefront Writers' Program incentivizes community members for contributing to our content engine. In early June, we won Mirror's $WRITE Race and we experimented with the first token-gated Mirror essay covering tokenized SaaS business models and were the first to try countdown-based token-access.
Forefront Hangouts have been a huge success – we've hosted weekly conversations with some of the most insightful thinkers and builders in the space. In addition to great conversation between explorers and builders – including Cooper Turley, Peter Pan, Scott Moore, Ian Lee, Sari Azout, Alex Zhang, and many more – our weekly newsletter and #ff-daily Discord channel curates the best highlights of social crypto discourse from across the internet.
Ready Season One
A season is a bounded period of time where the Forefront community can align on projects and experiments that help us achieve our broader mission.
While the grand vision for Forefront's long-term future may differ for different community members, seasons allow us to build consensus around what high-level steps we are taking over a fixed period of time.
The next chapter of Forefront will be focused on developing the infrastructure necessary to take our community to the next level. Some core priorities include:
Establishing Guilds
Evolving our content strategy
Improving governance and onboarding
Collaborating with other DAOs on drops and projects
These are ambitious goals, and we'll need all hands on deck to make them a reality. While the full details of the Season One proposal can be found on the FF Forum, we'd like to dive into some of the larger pieces here:
Guilds
Guilds are groups of contributors focused on a particular area of the DAO's work and growth. Season One will introduce three Guilds: Writers Guild, Growth Guild, and Culture Guild. Each Guild will focus on a core pillar of Forefront operations and mission, and streamline the path to contribution at all levels.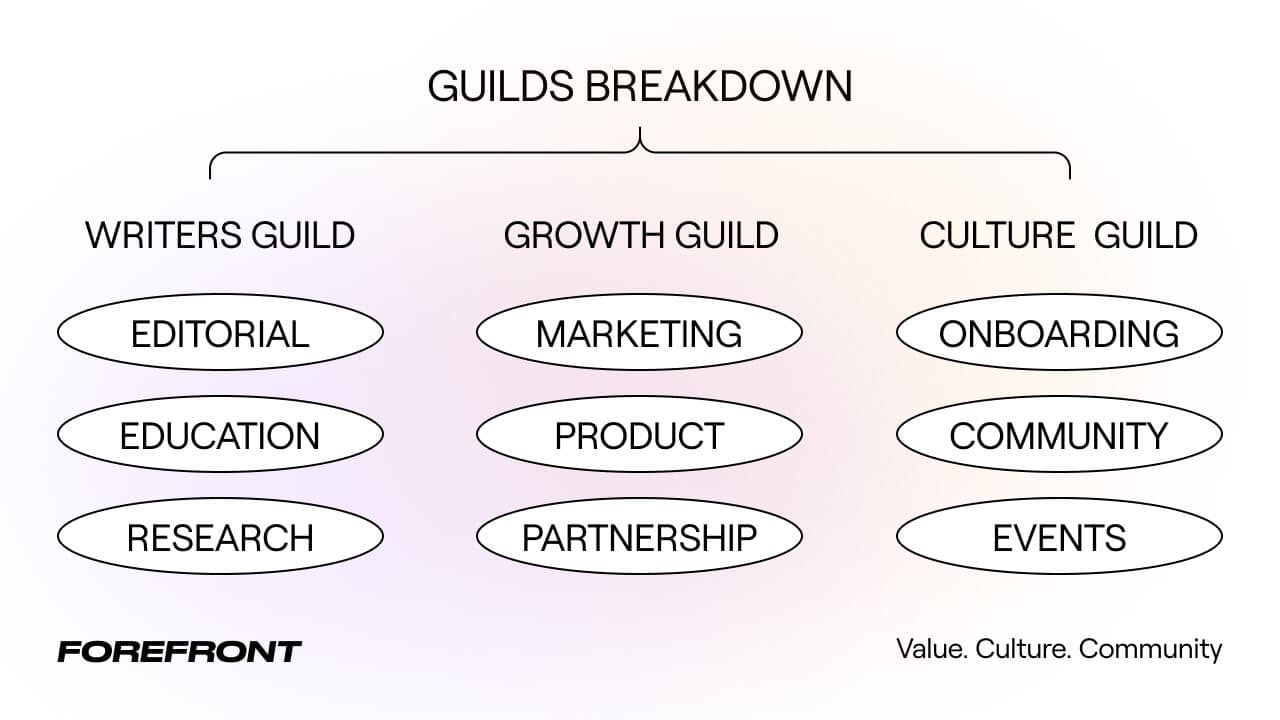 Anyone is free to join any or all guilds by going through an onboarding process. Guild members receive incentives in the form of $FF tokens, determined by a combination of Coordinape distribution graph and floor allocation.
If you would like to get involved in a Guild, join the Forefront Discord and check out the #get-involved channel.
Governance
To better manage decision making and work streams across teams, we'll be formalizing some governance best practices to better align DAO processes and workflows.
Forefront governance will happen in three phases:
Discord. New ideas, changes, and projects will be proposed in the relevant Discord channels.
Governance Forum. If consensus is reached, a formal proposal can be posted to the FF Governance Forum.
Snapshot. Once a proposal has been adequately discussed on the Forum, we will hold a community-wide off-chain vote on Snapshot.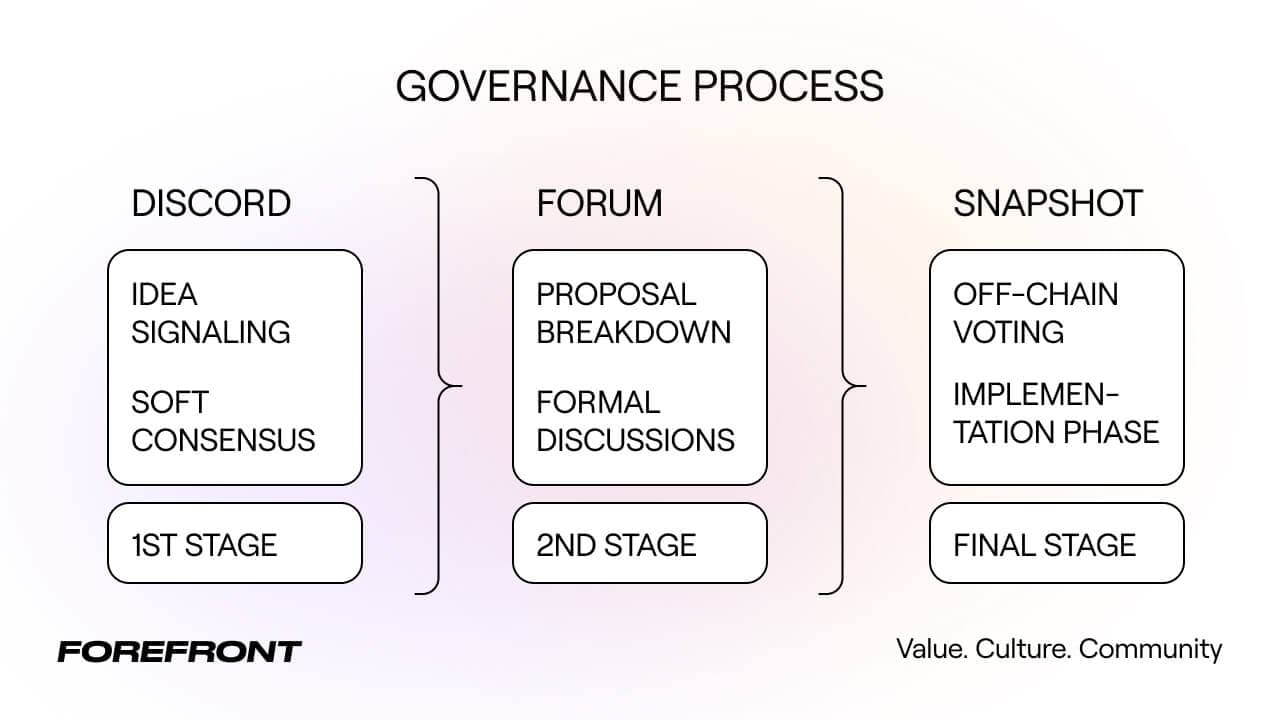 Any community member can suggest an idea on Discord and begin this process. To bootstrap the initial governance process, only whitelisted members (staff and guild leaders) will be able to create proposals on Snapshot.
Partnerships
During Season One, we plan on building out a set of tools and services to support social tokens communities, with ongoing support from the FF community (through our partners and in-house guilds):
Staking Platform: we will be opening our staking platform so that any social token community can run their own version of incentivized farms.
Auction House: NFT cashflows present an unmatched opportunity for FF to extend its collaboration culture while creating a steady revenue stream for the DAO.
Advisory: Forefront intends to run an experimental cohort where early stage creators and communities can leverage FF tooling, distribution, and community to quickly iterate and launch their product to market.
If you are working with a DAO interested in these tools and services, reach out to growth guild members in the FF Discord to learn more.
Content Strategy
One of our primary goals at Forefront is to support and develop the leading voices in the social token space. For Season One we will introduce a revamped Writers' Program with the Writers' Guild at its core.
Writers' Program. We're going to experiment with funding writing on certain topics up front, with editing/research help from our Writers' Guild throughout the entire process. We'll also assist with monetization once the essay is published.
Content Curation. Season One will introduce formal curation of essays across the internet, through grants, NFT purchases, and more.
FF Learn. One content segment we're really excited about is FF Learn, a place where those new to the social token space can go from zero to productive DAO contributor!
If you are a writer looking to break into web3 or looking to broaden your reach, check out our Writers' Program or reach out to Jihad in the Discord to learn more.
To celebrate Season One, we're auctioning off a 1/1 sponsorship NFT to give an individual or DAO the chance to sponsor our work and get their product or service in front of our readers throughout Season One.
Details
The winner will receive the 1/1 NFT which will be redeemable for the Season One sponsorship slot for our weekly newsletter and Mirror publication.
The auction winner will need to reach out to Forefront on twitter or at hello@forefront.news to confirm and coordinate the final sponsorship details.
About Forefront Newsletter
Forefront Newsletter cuts out the noise of web3 and brings you a selection of the top stories and essays in social crypto. Our readers love it.
Newsletter readership is made up of web3 builders and crypto natives, 40% of which are based in the United States, and 5.4% based in the UK. Our weekly emails average a 40% open rate and a 19% clickthrough rate.
Forefront Foundations
Forefront has come a long way, and we're extremely excited for the future as we continue to transition the roadmap into the community's hands.
Forefront staff will be focused on ensuring that proper governance structures and frameworks are in place so that contributors and members have all of the necessary tools to develop their Guilds and make their voices heard.
At Forefront, we're building The Home of Social Tokens. We hope you'll join us.